This past weekend (yes, I realize it is almost the weekend again) was so much fun! My college roommates and their kids came to Atlanta for the weekend. All told there were the 4 of us, and our 5 kids...plus one on the way. :) (I should add, Chris was here, but he tried to make himself scarce--poor guy, he was surrounded! :) ).
All four of us (we lived together all 4 years of school--minus semester's abroad etc). :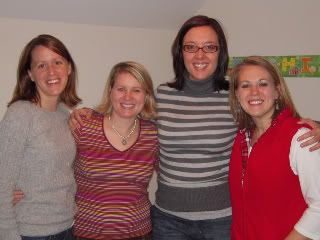 The three little boys (Eli 11 mos (2 days older than Ryan), Ryan, 11 mos, Thomas 7 mos):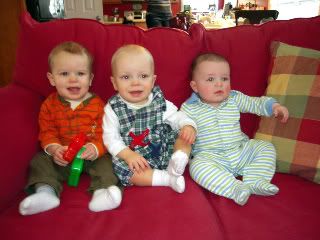 Sweet friends playing(Anna-Kate and Aubrey--9 days older than AK):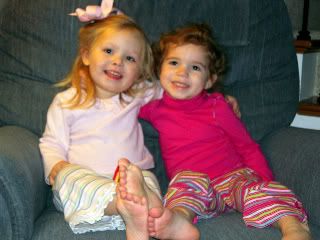 Our two little hams :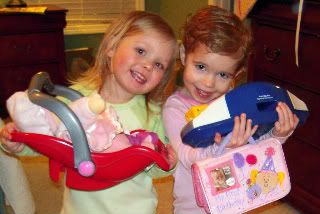 We didn't do a lot, just by nature of how many kids we had. We did make it to Chick-fil-a for lunch on Saturday (Chick O'le, as Anna-Kate calls it). The girls had a great time playing. During naps we spent some quality time chatting at Starbucks, which is
always
a relaxing time. It was a quick trip, but makes me so thankful for the friendships that I have. These are girls that no matter how long it is in between conversations and visits, we pick right back up like time hasn't passed us by.
These are the great friendships of life
.